The management team has involved in equipment marketing for the past 10 years. Over the years, our faithful customers' base is the testimony of our solid commitments to them in providing reliable, durable products range and efficient after sales supports. Our network are extensive and cover most part of Peninsular Malaysia.
Our parts department continues to play crucial roles in helping sustaining our business partners' operation nationwide. All parts and components are stored and made available at all times. With the setting up of LiuGong Distribution Center for S.E.A region in Singapore, its also cater for faster part response to these growing market demand.
Our core competences are customers don't just buy a machine, but after-sales support partnership that they can rely on and trust upon so that they can solely concentrate on their operation and leave everything else to us.
With these value of work ethics and attitudes we are firmly on the vision of being a leading 'LIUGONG' heavy industries equipment business partners and cost solutions provider in this region.
Exclusive distributor & importer for well known Chinese brand heavy equipment:


CIH Malaysia Operating Address
Lot 133, Kampung Seri Aman Hilir,
Batu 13, Jalan Puchong,
47150 Puchong,
Selangor Darul Ehsan.
Malaysia

 

Tel: 03 8068 4888
Fax: 03 8063 0666

Total land are:
Total build up area:
Show room area:
Workshop area:
Parts warehouse:
Total Service Vehicle:
Total Service Centre:
395,000 sq. ft
135,000 sq. ft
8,000 sq. ft
20,000 sq. ft
30,000 sq. ft
21 units
14 outlets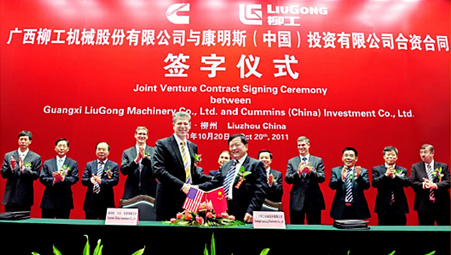 In 1995, Liugong cooperated with German ZF to established a joint venture company to produce transmission and axles in Liuzhou.
2011.10.20, Liugong signed the agreement with Cummins to establish a joint venture company to produce Cummins engine.
Come into production in 2013, expected to produce more than 40,000 units every year.
Read more