THE CAPABILITY OF OUR MACHINES
Our product technology in-merging of weight and power ratio allows it to perform in tough development and rough terrain condition.
With its' environmental friendly powerful engine matching with powerful drive drain possess with technology to produce greater torque and efficiency. From rock bolder to aggregate, it satisfies customer application without compromising on safety features.
Our chassis frame is produce to provide highest productivity and cost effectiveness. Simple, comfort, friendly and easy to use. These versatile machinery would contribute to higher productivity at low cost maintenance.

Construction

Plantation

Quarry

Mining

Industrial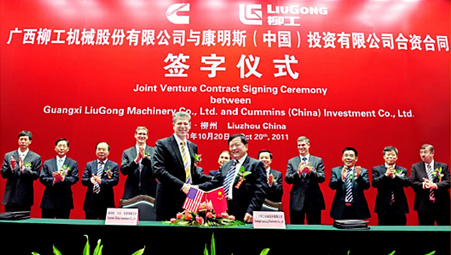 In 1995, Liugong cooperated with German ZF to established a joint venture company to produce transmission and axles in Liuzhou.
2011.10.20, Liugong signed the agreement with Cummins to establish a joint venture company to produce Cummins engine.
Come into production in 2013, expected to produce more than 40,000 units every year.
Read more